Welcome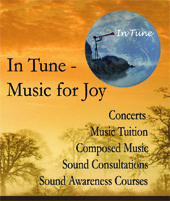 In Tune is a company run by Fredrik Holm that helps people to a more joyful life through music and sound energies. In Tune offers Sound Awareness education, tuition, CDs, composed music and consulations. Please browse the website to find out what you are interested in and don't hesitate to contact In Tune if you want to know more.
Enjoy these pages
Fredrik
---
---
Click here for course dates and performances in 2014
---
The music playing now which is from "Awakening". It is written for the unheard combination Flute, Bassoon Guitar, and is for sale at £9.50 + postage, or it can be downloaded.
---
Here are a few articles about In Tune from last year. A good read if you want to know more about this company.
@Lancaster April 2012
@Lancaster August 2012
@Lancaster October 2012
Goldenrooms February 2013


FREDRIK HOLM, IN TUNE, MILKING STILE LANE, LANCASTER, LA1 5QB, UK, +447780 623855,